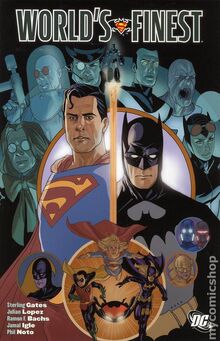 World's Finest
Edit
Trade Paperback (Out of Print)
Collects World's Finest (2009 2nd Series) #1-4, DC Comics Presents (1978-1986) #31 and Action Comics #865
Written by STERLING GATES, GEOFF JOHNS and GERRY CONWAY
Art by JULIAN LOPEZ, RAMON F. BACHS, JAMAL IGLE, PHIL NOTO, JESUS MERINO, JOSE LUIS GARCIA-LOPEZ, DICK GIORDANO, RODNEY RAMOS, JON SIBAL, JACK PURCELL and BIT
Cover by PHIL NOTO
Members of the Superman and Batman families collide in this tale exploring the relationships of the heroes who make up the most popular dynasties in comics.
Softcover, 144 pages, full color. Cover price $14.99.
June 2010
Steph appears in:
Ad blocker interference detected!
Wikia is a free-to-use site that makes money from advertising. We have a modified experience for viewers using ad blockers

Wikia is not accessible if you've made further modifications. Remove the custom ad blocker rule(s) and the page will load as expected.