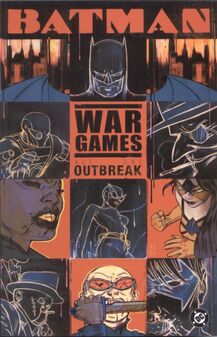 Collects: Batgirl (2000) # 55, Batman (1940) # 631, Batman: Gotham Knights (2000) # 56, Batman: Legends of the Dark Knight (1989) # 182, Batman: The 12¢ Adventure (2004) # 1, Catwoman (2002) # 34, Detective Comics (1937) # 797, Nightwing (1996) # 96, Robin (1993) # 129.
This opening act of 2004's hit crossover starring Gotham City's heroes features an all-new cover by Eisner Award-winning artist James Jean. A clash between Gotham's underworld families erupts into a wave of chaos that engulfs the city. Batman must use every available asset - Oracle, Batgirl, Nightwing, Orpheus, Onyx, and Tarantula - to preserve life and contain the chaos!
Softcover, 208 pages, full color. Cover price $14.99.
Out of Print, but all of War Games and War Crimes are collected in Batman: War Games Books One and Two
Ad blocker interference detected!
Wikia is a free-to-use site that makes money from advertising. We have a modified experience for viewers using ad blockers

Wikia is not accessible if you've made further modifications. Remove the custom ad blocker rule(s) and the page will load as expected.