"Batgirls! Batgirls!"
Tiny Titans #45
October 19, 2011
Written by
Art Baltazar, Franco
Cover by
Art Baltazar
Interior Art by
Art Baltazar
Edited by
Kristy Quinn
Previous Issue
Tiny Titans #33
You are invited to a special Batgirl issue featuring Cassandra, Stephanie, Flamebird and, of course, Barbara. Find out what happens to The Batcave when the girls take over! Bonus: Coach Lobo's Secret Soccer team versus...The Birds of Prey?! GO-O-O-A-A-AL!
Summary of Stephness:
Other Formats/Collected In:
Tiny Titans: Aw Yeah Titans! (Vol. 8) TPB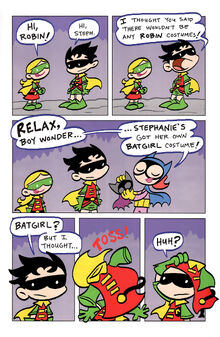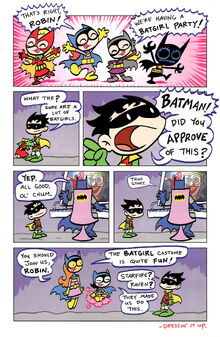 Ad blocker interference detected!
Wikia is a free-to-use site that makes money from advertising. We have a modified experience for viewers using ad blockers

Wikia is not accessible if you've made further modifications. Remove the custom ad blocker rule(s) and the page will load as expected.