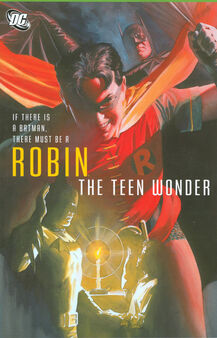 Collects Batman (1940) #428, Batman (1940) #442, Batman: Legends of the Dark Knight (1989) #100, Nightwing (1996) #101, Robin (1993) #126, Robin (1993) #132 and Teen Titans (2003) #29.
All of the teenagers who have served as Robin star in this title collecting stories that spotlight the Dark Knight Detective's faithful sidekick.
Softcover, 160 pages, full color. Cover price $17.99.
Ad blocker interference detected!
Wikia is a free-to-use site that makes money from advertising. We have a modified experience for viewers using ad blockers

Wikia is not accessible if you've made further modifications. Remove the custom ad blocker rule(s) and the page will load as expected.