Steph of the Day!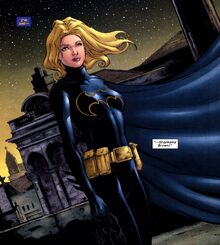 Our front page Steph of the Day features a panel of Steph, old or new, fan created or professional, that highlights something awesome about the best superhero of all time!
Announcement: We're Back!
Now that Stephanie Brown is again a major player in the Batman universe as she deserves, hopefully this wiki will become a haven for Steph fans all over the world again. Come on in and add some Steph edit love!
-New! n52/Rebirth - Steph's complete appearances since September 2011, both in continuity and alternate universes.
-New! Chronology - Steph's appearances in the Post-Crisis continuity, from her first outing to her assuming the Batgirl mantle. Now complete!
-New! Steph as Batgirl - Steph's amazing two year run as the dashing daredoll, including spinoffs, cameos, and guest appearances.
-New! Creators - Some of the wonderful folk who have had a hand in shaping Steph's journey!
-Character Pages (Contains profiles of Steph and her associates, appearances, and other details)
-Media - Some interviews with and articles about the people who write the adventures of our heroine!
-Art
News
March 27, 2016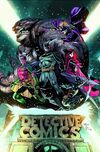 DC Universe Rebirth will feature Stephanie Brown as Spoiler in the relaunched Detective Comics, written by James Tynion IV, where she, Tim Drake, and Cassandra Cain will attend "Gotham Boot Camp" led by Batman and Batwoman!
February 27, 2016
Talking Comic's podcast Legendary Runs covered Bryan Q. Miller's amazing Batgirl run in their podcast this week! You can find it here!
August 31, 2015
Steph as Spoiler shows up in a panel of the
preview for Batman and Robin Eternal
, drawn by Tony Daniel: 
August 16, 2015
Exciting News! After Steph's triumphant guest appearance in the Batgirl Annual, she's sharing a cover on Batgirl #46! Drawn by current n52 Steph master, David Lafuente!
July 8, 2015
We were linked in the review of Catwoman #42! Quoting Robin #105, "Purple would have looked stupid," this review celebrates Steph's dramatic entrance into Selina's world.
July 3, 2015
The wealth of Steph in July continues! Steph will appear in Batgirl Annual #3, according to this interview with Steph's Batman Eternal artist, David Lafuente.
May 21, 2015
New interview with Genevieve Valentine about Steph's upcoming (at least) 2-issue guest starring arc in Catwoman!
May 13, 2015
SURPRISE! Steph as Batgirl shows up in CONVERGENCE 6, and even has a line!
April 21, 2015
Looks like July 2015 will be an exciting month for Steph lovers! Catwoman #42 will feature a guest appearance by the Spoiler, and the Teen Titans GO! variant cover for Detective Comics #42 will feature Steph as Robin!
April 18, 2015
As part of their July 2015 Teen Titans Go variant cover theme, Steph appears as Robin on the Dan Hipp variant cover for Detective Comics #42 (http://mrhipp.tumblr.com/post/116729444773/dc-comics-variant-cover-theme-for-july-is-teen)!
April 8, 2015
Convergence is here! For two months, we'll get Steph, Cass, and Tim fighting for Gotham's survival!
April 6, 2015
Updated Interviews with a collection of behind-the-scenes pieces on Batman Eternal. Be sure to check it out - it looks at the recreation of Steph all the way to her heroic actions in the conclusion, and sketches out some things that might not be obvious if you have been following along over a year!
April 4, 2015
Our Games section is updated with news about Steph's appearance in Lego Batman 3: Keepers of the Cape and Cowl! The Batman Eternal costume is in bold evidence!
Sources: http://store.steampowered.com/app/335800/
https://www.facebook.com/LEGOBatmanGame/photos/a.216538901786434.48815.199285640178427/764197647020554/?type=1
March 20, 2015
New interview with Alisa Kwitney about Batgirl: Convergence!
March 11, 2015
BREAKING NEWS! Spoiler appears in Detective Comics: Engame #1 (one-shot), a sort of comic pilot for the We Are Robins title starting post-Convergence (in June). This bodes well for future appearances post-Eternal! (See our n52 section for issue details!)
March 7, 2015
Convergence interviews from writer Alisa Kwitney (from February - sorry for the delay, Steph fans!) At Comics Alliance, Newsarama, and ComicBook.
November 11, 2014
Steph as Batgirl will be getting her own two-issue miniseries in the multi-universe event Convergence! We are currently updating information about this series in the n52 page until we get enough material to create a separate issue page.
October 9, 2014
We're back! After three years, Stephanie is finally a major player in the DC universe again. Hopefully, we'll be able to make this wiki the place for Steph fans to come together again!
---
Now Playing
On sale September 28, 2016
Writers: Steve Orlando and James Tynion IV
Artist: Andy MacDonald
Night of the Monster Men: Part Three - Batman and Batwoman take to the streets in a motorcycle death race against a monster that transforms faster than either of them can keep up! And at Blackgate Prison, something truly terrifying is growing in the prison's darkest depths… and its eggs are hatching!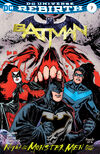 On sale September 21, 2016
Writers: Steve Orlando and Tom King
Artist: Riley Rossmo
Night of the Monster Men: Part One - As a huge storm approaches, Batman, Batwoman and Nightwing try and prepare Gotham City for the worst, but nothing can prepare the heroes for the enormous monsters rampaging through the streets! Batman will need all of his allies to unite in order to stop these mad science monsters from tearing Gotham apart!
On Sale September 21, 2016
Writers: Steve Orlando and Tim Seeley
Artist: Roge Antonio
"Night of the Monster Men" part 2! The Monster Men are stomping their way through Gotham City. How can the Bat-team face the monsters and the storm of the century? And when Nightwing goes behind the scenes to discover where the monsters came from, what lurks in the shadows may be worse than the monsters themselves!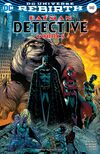 On sale September 14, 2016
Writer: James Tynion IV
Artist: Eddy Barrows
This epic concludes with a battle against the Colony that will change Batman's world forever—and in a way you'd never expect! Whether they win or lose, they've already lost…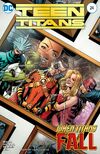 On sale September 14, 2016
Writer: Tony Bedard
Artist: Ian Churchill
In this climactic issue, the team is forced to make a decision: continue fighting crime as the Teen Titans…or go their separate ways.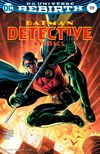 On sale August 24, 2016
Writer: James Tynion IV
Artist: Eddy Barrows
The full scope of the Colony's plans, and their mysterious leader, have all been revealed…so what's it going to take to stop them? Believe us, you are not prepared for the last scene!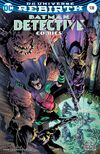 On sale August 10, 2016
Writer: James Tynion IV
Artist: Alvaro Martinez
"Rise of the Batmen" part five! Batman, Batwoman, and the entire team take the fight to the deadly Colony! Those highly trained operatives took the Bat-team apart on their own turf…so how will they fare when the Colony is in its element, with all their weapons trained on our heroes?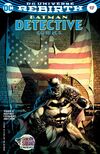 DETECTIVE COMICS 937
On sale July 27, 2016
Writer: James Tynion IV
Artist: Eddy Barrows
In issue #937, Batman's found his way into the heart of the Colony, the mysterious new organization cutting its way through Gotham City! Unfortunately, now that he's in he may find there's no way out!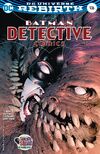 On sale July 13, 2016
Writer: James Tynion IV
Artist: Eddy Barrows
In issue #936, Batman is M.I.A., and it's time for Batwoman to take the reins! But can she control a strike force that's barely worked together…including unstable wildcard Clayface?
---
Upcoming Appearances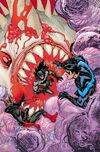 On sale October 12, 2016
Writers: Steve Orlando and James Tynion IV
Artist: Andy MacDonald
"NIGHT OF THE MONSTER MEN" part six! The earth-shaking finale is here! Batman's going one-on-one with Hugo Strange, the mastermind behind the beasts unleashed on Gotham…but the biggest and most dangerous of all the monsters was saved for last! What will the Bat-Family have to sacrifice to bring it down? And what's the strange secret behind Hugo's design?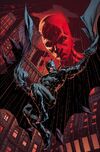 On sale October 26, 2016
Writer: James Tynion IV
Artist: Alvaro Martinez
"THE VICTIM SYNDICATE" part one! Batman can't save everyone-innocent people sometimes fall in the war against evil that he's declared in Gotham. But what happens when those victims start to fight back…and they don't only blame the criminals who shattered their lives? Batman's never faced an enemy like this, and his team may find themselves questioning everything they know about what heroes do!
On sale November 9, 2016
Writer: James Tynion IV
Artist: Eddy Barrows
The mysterious First Victim has launched an assault on Batman and his team, forcing them to fight an enemy they know nothing about, who seems to have the support of an entire network of strange new foes!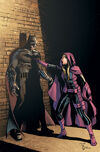 On sale November 23, 2016
Writer: James Tynion IV
Artist: Eddy Barrows
Batman is trying his best to hold his team together, but Spoiler might have every reason to walk out the door…and others might follow!
On Sale December 14, 2016
Writer: James Tynion IV
Artist: Eddy Barrows
The Victim Syndicate is taking their message to the streets in an attempt to turn the citizens of Gotham City against Batman and his allies! They can fight villains, but what happens when the whole city turns against them?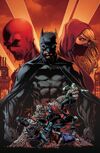 On Sale December 28, 2016
Writer: James Tynion IV
Artist: Alvaro Martinez
"THE VICTIM SYNDICATE" conclusion! Has the First Victim succeeded in dividing and conquering Batman's team? The final attack will come from someone they'd all put their faith in…
---
External Links
Batgirl to Oracle: The Barbara Gordon Podcast
---
Related Wikis
DC Comics • Cassandra Cain Mainframe • Batman • Wonder Woman