Welcome to the Stephanie Brown Wikia!
Stephanie Brown is a fan favorite member of the Batfamily - but you probably already know that, if you've dropped by for more information about her! Come on in and add some Steph edit love!
-New! Rebirth - Steph's complete appearances starting in May 2016, both in continuity and alternate universes.
-n52 - Steph's complete appearances from September 2011 to May 2016, both in continuity and alternate universes. Now complete!
-Chronology - Steph's appearances in the Post-Crisis continuity, from her first outing to her assuming the Batgirl mantle. Now complete!
-Steph as Batgirl - Steph's amazing two year run as the dashing daredoll, including spinoffs, cameos, and guest appearances. Now complete!
-Creators - Some of the wonderful folk who have had a hand in shaping Steph's journey!
-Character Pages (Contains profiles of Steph and her associates, appearances, and other details)
-Media - Some interviews with and articles about the people who write the adventures of our heroine!
-Art
News
July 21, 2017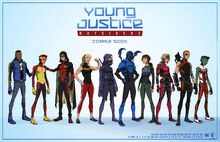 At SDCC, it was revealed that Steph will be appearing as Spoiler in the upcoming (2018) Young Justice: Outsiders series, the third season of the formerly cancelled animated show. Steph did appear in the second season as a civilian.
http://deadline.com/2017/07/young-justice-outsiders-character-designs-shows-thirteen-character-comic-con-1202132790/
March 27, 2016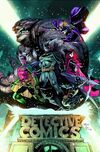 DC Universe Rebirth will feature Stephanie Brown as Spoiler in the relaunched Detective Comics, written by James Tynion IV, where she, Tim Drake, and Cassandra Cain will attend "Gotham Boot Camp" led by Batman and Batwoman!
February 27, 2016
Talking Comic's podcast Legendary Runs covered Bryan Q. Miller's amazing Batgirl run in their podcast this week! You can find it here!
August 31, 2015
Steph as Spoiler shows up in a panel of the
preview for Batman and Robin Eternal
, drawn by Tony Daniel: 
August 16, 2015
Exciting News! After Steph's triumphant guest appearance in the Batgirl Annual, she's sharing a cover on Batgirl #46! Drawn by current n52 Steph master, David Lafuente!
July 8, 2015
We were linked in the review of Catwoman #42! Quoting Robin #105, "Purple would have looked stupid," this review celebrates Steph's dramatic entrance into Selina's world.
July 3, 2015
The wealth of Steph in July continues! Steph will appear in Batgirl Annual #3, according to this interview with Steph's Batman Eternal artist, David Lafuente.
May 21, 2015
New interview with Genevieve Valentine about Steph's upcoming (at least) 2-issue guest starring arc in Catwoman!
May 13, 2015
SURPRISE! Steph as Batgirl shows up in CONVERGENCE 6, and even has a line!
April 21, 2015
Looks like July 2015 will be an exciting month for Steph lovers! Catwoman #42 will feature a guest appearance by the Spoiler, and the Teen Titans GO! variant cover for Detective Comics #42 will feature Steph as Robin!
April 18, 2015
As part of their July 2015 Teen Titans Go variant cover theme, Steph appears as Robin on the Dan Hipp variant cover for Detective Comics #42 (http://mrhipp.tumblr.com/post/116729444773/dc-comics-variant-cover-theme-for-july-is-teen)!
April 8, 2015
Convergence is here! For two months, we'll get Steph, Cass, and Tim fighting for Gotham's survival!
April 6, 2015
Updated Interviews with a collection of behind-the-scenes pieces on Batman Eternal. Be sure to check it out - it looks at the recreation of Steph all the way to her heroic actions in the conclusion, and sketches out some things that might not be obvious if you have been following along over a year!
April 4, 2015
Our Games section is updated with news about Steph's appearance in Lego Batman 3: Keepers of the Cape and Cowl! The Batman Eternal costume is in bold evidence!
Sources: http://store.steampowered.com/app/335800/
https://www.facebook.com/LEGOBatmanGame/photos/a.216538901786434.48815.199285640178427/764197647020554/?type=1
March 20, 2015
New interview with Alisa Kwitney about Batgirl: Convergence!
March 11, 2015
BREAKING NEWS! Spoiler appears in Detective Comics: Engame #1 (one-shot), a sort of comic pilot for the We Are Robins title starting post-Convergence (in June). This bodes well for future appearances post-Eternal! (See our n52 section for issue details!)
March 7, 2015
Convergence interviews from writer Alisa Kwitney (from February - sorry for the delay, Steph fans!) At Comics Alliance, Newsarama, and ComicBook.
November 11, 2014
Steph as Batgirl will be getting her own two-issue miniseries in the multi-universe event Convergence! We are currently updating information about this series in the n52 page until we get enough material to create a separate issue page.
October 9, 2014
We're back! After three years, Stephanie is finally a major player in the DC universe again. Hopefully, we'll be able to make this wiki the place for Steph fans to come together again!
---
Now Playing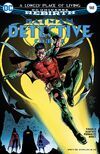 On sale November 8, 2017
Writer: James Tynion IV
Artist: Alvaro Martinez
"A LONELY PLACE OF LIVING" finale! Tim Drake is back on Earth — but if the deadly threat he brought back with him from outside of time has its way, it won't be for long…and this shadowy figure wants to take one of Batman's team down with him, too! Everything Tim died for the first time is at risk, if he can't survive this attack!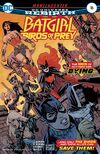 BATGIRL AND THE BIRDS OF PREY 16
On sale November 8, 2017
Writers: Julie Benson and Shawna Benson
Artist: Roge Antonio
"Manslaughter" part two! As an illness that affects half of Gotham City's population grows, Batgirl, Black Canary and Huntress pick up some unexpected help from Catwoman, Ivy and Harley, as well as some welcome backup from Batwoman, Spoiler, Gotham Girl and Wonder Woman. But as the Birds of Prey grow closer to discovering the source of the outbreak, what they find won't end the plague and might only make it grow faster.
On sale October 25, 2017
Writer: James Tynion IV
Artist: Alvaro Martinez
"A LONELY PLACE OF LIVING" part three! It's a race to save the future of Tim and his team as Red Robin tries to escape his prison outside of time and find his way back to Earth.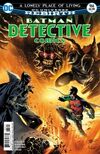 On sale October 11, 2017
Writer: James Tynion IV
Artist: Eddy Barrows
"A LONELY PLACE OF LIVING" part two! Tim Drake has been locked in Mr. Oz's fortress—but now he's free and roaming the prison while his captor faces off against the Man of Steel. But is he the only prisoner who's been freed?!
BATGIRL AND THE BIRDS OF PREY 15
On sale October 11, 2017
Writers: Shawna and Julie Benson
Artist: Marcio Takara
"MANSLAUGHTER" part one! It's flu season in Gotham City, but something odd is happening...only the men are getting sick, including those closest to the Birds of Prey! With Commissioner Gordon on his deathbed and Batman fighting a foe even he can't beat, only the Birds of Prey have the strength to stand up to what's happening and keep the city from spiraling into chaos!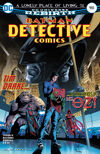 DETECTIVE COMICS 965
Writer: James Tynion IV
Artist: Eddy Barrows
"A LONELY PLACE OF LIVING" part one! It's the story you've demanded: Where in the world (or otherwise) is Tim Drake? Red Robin faces a crossroads…escape the most devious prison ever devised, or find himself abandoned beyond time and space for all eternity! Not much of a choice, right? But when he finds out just who is locked in there with him, Tim's world will change in ways he never imagined! This is one of the biggest stories of the REBIRTH era, setting the stage for an explosive DETECTIVE COMICS epic!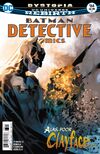 On sale September 13, 2017
Writers: James Tynion IV, Christopher Sebela
Artist: Carmen Carnero
"Dystopia"! Anarky has shown Spoiler the world he's built beneath Gotham City, which he plans to bring into the light…but she needs to know who helped him build it! And what's more, this alliance has put Steph back on Batman's radar…and now the two are on a collision course!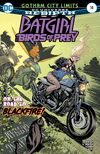 BATGIRL AND THE BIRDS OF PREY 14
On sale September 13, 2017
Writers: Shawna and Julie Benson
Artist: Marcio Takara
"FIELD TRIP!" Helena Bertinelli, a.k.a. Huntress, thought it would be a good idea to get her class of students out of Gotham City for a day…unfortunately, trouble follows the Birds of Prey wherever they go! Can the Birds complete a mission without this curiously perceptive bunch of kids catching on?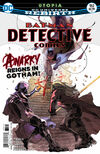 On sale August 23, 2017
Writer: James Tynion IV, Christopher Sebela
Artist: Carmen Carnero
"LONGER CHAINS" part one! Having exiled herself from Batman's world, Spoiler has nearly destroyed herself trying to expose the corruption of Gotham City's vigilantes. Fortunately for her, help has arrived…but unfortunately for the city, it's in the form of the mysterious Anarky! Is he truly on the side of the people, or is he a dangerous lunatic?
On sale May 24, 2017
Writers: Christopher Sebela and James Tynion IV
Artist: Carmen Carnero
"The Wrath Of Spoiler"! Stephanie Brown wants nothing more than to save Gotham City from the epidemic of costumed vigilantes and madmen that regularly tear the city apart. But before she can try to stop them, she must face the challenge of one in particular: the insane idealogue the Wrath is back, and Stephanie knows what he has planned—but she refuses to let Batman risk more lives to stop him. That means it's all on her…and a very unlikely ally!
---
Upcoming Appearances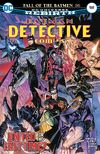 On sale November 22, 2017
Writer: James Tynion IV
Artist: Joe Bennett
"FALL OF THE BATMEN" part one! Everyone in Batman's orbit is broken somehow—some more than others. For Clayface, keeping the pieces of his psyche together has been a years-long struggle…and it's a war he may be about to lose! And as the team tries to pull itself back together, their enemies have learned something from Batman's newfound spirit of cooperation…and have formed a cabal of their own!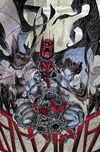 On sale December 13, 2017
Writer: James Tynion IV
Artist: Joe Bennett
"Fall of the Batmen" part two! Spoiler and the team still have unfinished business to resolve...and unfortunately for everyone, the Victim Syndicate feels the same way!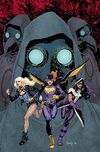 BATGIRL AND THE BIRDS OF PREY 17
On sale December 13, 2017
Writers: Julie Benson, Shawna Benson
Artist: Roge Antonio
"MANSLAUGHTER" finale! A mysterious plague has infected all the men in Gotham City! The Birds of Prey have united the city's female heroes to stop whoever's behind this manfluenza, but even their combined might may not be enough to defeat the Daughters of Gotham and their mysterious leader, Patient Zero. They'll have to act quickly if they want to save Batman and the men of Gotham before they succumb and the virus spreads far beyond the city limits.
---
External Links
Batgirl to Oracle: The Barbara Gordon Podcast
---
Related Wikis
DC Comics • Cassandra Cain Mainframe • Batman • Wonder Woman
Ad blocker interference detected!
Wikia is a free-to-use site that makes money from advertising. We have a modified experience for viewers using ad blockers

Wikia is not accessible if you've made further modifications. Remove the custom ad blocker rule(s) and the page will load as expected.