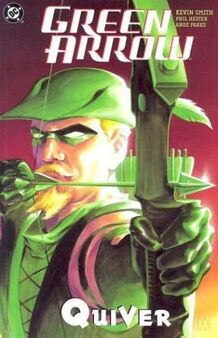 Collects Green Arrow (2001) #1 - #4, Green Arrow (2001) #5, Green Arrow (2001) #6 - #10.
Green Arrow - a.k.a. Oliver Queen - reemerges after years of being presumed dead. But many, including Black Canary his ex-lover, Arsenal his ex- partner, Connor Hawke his son, and Batman the Dark Knight Detective, want to know how Green Arrow survived an airplane explosion and where he's been!
Softcover, 232 pages, full color. Cover price $17.95.
Other Formats:
Digital Comic TPB

Ad blocker interference detected!
Wikia is a free-to-use site that makes money from advertising. We have a modified experience for viewers using ad blockers

Wikia is not accessible if you've made further modifications. Remove the custom ad blocker rule(s) and the page will load as expected.