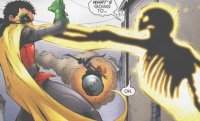 Dr. Phosphorus is a vengeful radioactive man with burning skin.
The villain Roulette lured Batman into Devil's Square so that the villian team Roulette had gotten together- Roxy Rocket, Riot and Dr. Phosphorus- could take Batman out while Roulette booked bets on the outcome. It worked. However, Steph and Damian swung in to save Batman.
Dr. Phosphorus had Damian in a chokehold when Damian laughed and said, "THIS is going to hurt." Phosphorous demanded, "What's going to-?" and then said, "Oh" when he saw Stephanie had hijacked Roxy's Rocket and was coming for him. She crashed the rocket into the villain- with Roxy still on it! Steph and Damian jumped clear of the explosion and she later told Dick that the action was "in a shocking twist, totally on purpose".
Find out more about Dr. Phosphorus here
Ad blocker interference detected!
Wikia is a free-to-use site that makes money from advertising. We have a modified experience for viewers using ad blockers

Wikia is not accessible if you've made further modifications. Remove the custom ad blocker rule(s) and the page will load as expected.