Dinah: Are you a Batman approved operative, Spoiler?
Spoiler: Sort of.
Robin: No.
Dinah: I think I understand.
-Robin 80 Page Giant

Relationship: friend, mentor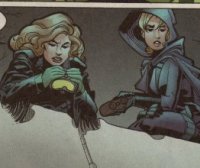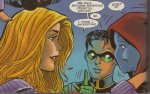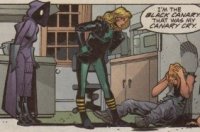 Name: Dinah Laurel Lance
Alias: Black Canary II
Dinah Lance was Stephanie's mentor briefly in the Birds of Prey and trained her as an apprentice.
Important moments:
Dinah meets Stephanie and agrees to train her (Robin 80 Page Giant: Nature's Bride)
Dinah runs into Stephanie and throws the Cluemaster and Riddler out of Steph's house (Birds of Prey (40))
Dinah tells Steph she is too busy to train her anymore and unwilling to risk her life by taking her on missions, but assures her that she has a lot of talent. (Birds of Prey (43))
Stephanie tricks Dinah into revealing The Riddler's hideout (Robin (112))
Dinah remembers Stephanie when she's trying to save Wildcat's life "It's been a bad year for our community...first poor, sweet Sue...then the endlessly brave and heartbreakingly hopeful Spoiler..." (Birds of Prey #81)
Learn more about Dinah Lance here