Longer Chains, part one
Detective Comics #963
August 23, 2017
Written by
James Tynion IV
Cover by
Unknown
Interior Art by
Carmen Carnero
"LONGER CHAINS" part one! Having exiled herself from Batman's world, Spoiler has nearly destroyed herself trying to expose the corruption of Gotham City's vigilantes. Fortunately for her, help has arrived…but unfortunately for the city, it's in the form of the mysterious Anarky! Is he truly on the side of the people, or is he a dangerous lunatic?
Behind the Scenes: Christopher Sebela tweeted this image by Carmen Carnero: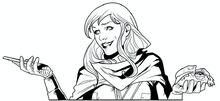 Ad blocker interference detected!
Wikia is a free-to-use site that makes money from advertising. We have a modified experience for viewers using ad blockers

Wikia is not accessible if you've made further modifications. Remove the custom ad blocker rule(s) and the page will load as expected.