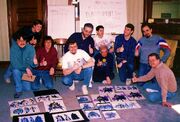 One of the most prolific writers in comics in the 1990s, Chuck Dixon created many characters and teams who continue to impact the world of Batman today, including Bane, the Birds of Prey, and of course Stephanie Brown. Because of personal and political issues, he has had a tempestuous relationship with DC comics since the 2000s.  One of his last actions as a writer for DC Comics was bringing Stephanie back to life (though his retroactive continuity fix was that she was never really dead).
Dixon maintains a presence at his website The Dixonverse, including posting frequently on its message board.
(All photos from Dixon's website)
Edit
Ad blocker interference detected!
Wikia is a free-to-use site that makes money from advertising. We have a modified experience for viewers using ad blockers

Wikia is not accessible if you've made further modifications. Remove the custom ad blocker rule(s) and the page will load as expected.