WARNIIING! Stupid torture porn! Don't read it if you dislike that and like Steph!
Catwoman vol. 2 #35 "Betrayal
http://www.comicbookdb.com/graphics/comic_graphics/1/114/12761_20060830074111_large.jpg

Cover Date: November 2004
Cover Price: US $2.50
Writer(s):
Ed Brubaker
Penciller(s):
Paul Gulacy
Inker(s):
Jimmy Palmiotti
Colorist(s):
Laurie Kronenberg
Letterer(s):
Clem Robins
Editor(s):
Nachie Castro
Matt Idelson
Cover Artist(s):
Paul Gulacy
Laurie Kronenberg Jimmy Palmiotti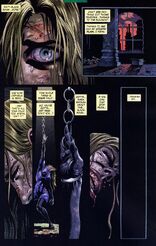 Bold text
Ad blocker interference detected!
Wikia is a free-to-use site that makes money from advertising. We have a modified experience for viewers using ad blockers

Wikia is not accessible if you've made further modifications. Remove the custom ad blocker rule(s) and the page will load as expected.