Batman and Robin Eternal Volume 2
Edit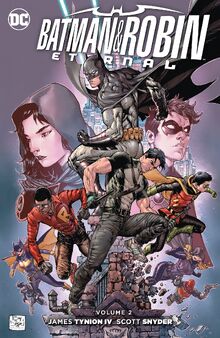 Trade Paperback
Collects Batman and Robin Eternal #13 - #22, Batman and Robin Eternal #23, Batman and Robin Eternal #24, Batman and Robin Eternal #25 and Batman and Robin Eternal #26.
Written by James Tynion IV, Scott Snyder, Genevieve Valentine, Steve Orlando, et al.
Art by Tony Daniel, Carlo Pagulayan, Christian Duce, Alvaro Martinez, et al.
Cover by Tony Daniel
The epic finale of the sequel to the NEW YORK TIMES best-selling series BATMAN ETERNAL is here! 
The Dynamic Duo thought they had defeated her for good; but now, five years later, Mother is back, and she's ready to enact her grand plan-one that's even worse than Dick Grayson and the Robins could have ever imagined. When the truth behind Batman's greatest failure is revealed, one of his allies may walk away from the fight forever. 
As the world burns, it's up to Dick Grayson to save an entire generation from unspeakable tragedy!
Secrets are revealed, friendships are tested, and things will never be the same for the Bat-family. From best-selling writers James Tynion IV and Scott Snyder! 
Softcover, 306 pages, full color. Cover price $34.99.
July 5, 2016
Other Formats:
Digital Comic TPB

Ad blocker interference detected!
Wikia is a free-to-use site that makes money from advertising. We have a modified experience for viewers using ad blockers

Wikia is not accessible if you've made further modifications. Remove the custom ad blocker rule(s) and the page will load as expected.