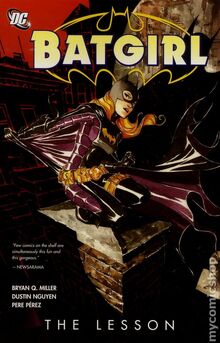 Batgirl: The Lesson
Edit
Trade Paperback (Out of Print)
Collects: Batgirl #15, Batgirl #16, Batgirl #17, Batgirl #18, Batgirl #19, Batgirl #20, Batgirl #21, Batgirl #22, Batgirl #23 and Batgirl #24.
Written by Bryan Q. Miller
Art by Pere Perez, Dustin Nguyen, Ramon Bachs.
Cover by Dustin Nguyen
Stephanie Brown's second semester at Gotham U starts like any other - new classes, new allies, a vigilante stalker - everything a gal could want! But what Gotham City's Batgirl isn't prepared for is the arrival of the "Order of the Scythe." Who are they, and why have they set their sights on her?
Softcover, 224 pages, full color. Cover price $19.99.
November 29, 2011
Other Formats/Collected In:
Ad blocker interference detected!
Wikia is a free-to-use site that makes money from advertising. We have a modified experience for viewers using ad blockers

Wikia is not accessible if you've made further modifications. Remove the custom ad blocker rule(s) and the page will load as expected.