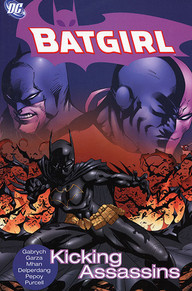 Collects: Batgirl #60, Batgirl #61, Batgirl #62, Batgirl #63 - #64, Batman Allies Secret Files and Origins 2005 #1.
It's a new start for Batgirl! Cassandra Cain begins to build a new life for herself in Blüdhaven, but with the Penguin looming large in the city once protected by Nightwing, can Batgirl keep the streets safe, or will she face something more sinister and foul than ever before? Featuring the villainy of Deathstroke the Terminator.
Softcover, 128 pages, full color. Cover price $14.99.
Ad blocker interference detected!
Wikia is a free-to-use site that makes money from advertising. We have a modified experience for viewers using ad blockers

Wikia is not accessible if you've made further modifications. Remove the custom ad blocker rule(s) and the page will load as expected.