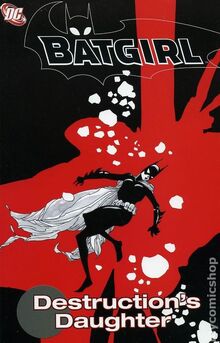 Batgirl: Destruction's Daughter
Edit
Trade Paperback (Out of Print)
Collects: Batgirl #65 - #66, Batgirl #67, Batgirl #68 - #71, Batgirl #72, Batgirl #73.
Written by Andersen Gabrych
Art by Pop Mhan, Andy Kuhn.
Cover by Tim Sale
Learn the fate of Batgirl!
Batgirl has known her father was the deadly mercenary David Cain - but who was her mother? Her quest for truth brings her face-to-face with Lady Shiva and Nyssa. Will she find the answers she's looking for, or will she regret taking this journey?
Softcover, 220 pages, full color. Cover price $19.99.
Other Formats/Collected In:
Digital Collection
Ad blocker interference detected!
Wikia is a free-to-use site that makes money from advertising. We have a modified experience for viewers using ad blockers

Wikia is not accessible if you've made further modifications. Remove the custom ad blocker rule(s) and the page will load as expected.