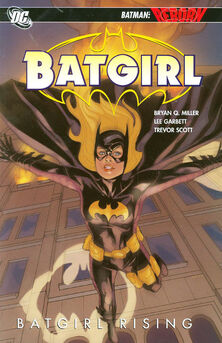 Batgirl: Batgirl Rising
Edit
Trade Paperback (Out of Print)
Batman Reborn tie-in
Collects: Batgirl #1, Batgirl #2, Batgirl #3, Batgirl #4, Batgirl #5, Batgirl #6 and Batgirl #7.
Written by Bryan Q. Miller
Art by Lee Garbett
Cover by Phil Noto
In this new title collecting the first story arc of her hit series, Stephanie Brown, formerly known as the Spoiler, takes on a new guise as Batgirl - and becomes the target of both Gotham City's heroes and villains.
Softcover, 176 pages, full color. Cover price $17.99.
July 14, 2010
USA Today listed the Batgirl Rising tpb, which collected the first 7 issues of Batgirl, among the Top 10 Graphic Novels of 2010, one of only 2 DC titles to make the list and the ONLY one set in the Post-Crisis DCU:
"With the holiday season winding down, here are some last-minute gift ideas from the wide world of comics and graphic novels this year, as picked by USA TODAY's Brian Truitt, John Geddes and David Colton, fanboys all...
Brian's picks
Batgirl: Batgirl Rising, by Bryan Q. Miller and Lee Garbett (DC Comics; 176 pages; $17.99)
Grant Morrison has been doing some wild and crazy things in Gotham City with Bruce Wayne and the other Bat-characters. But a funny thing happened along the way to Batman time-traveling back from the dead: Stephanie Brown, the onetime Spoiler and now Batgirl, became one of Gotham's most interesting residents. Deftly penned by Bryan Q. Miller, Stephanie (who also "died" for a time) lives at home, goes to college during the day, gets schooled nightly in the art of superheroism (under the watchful eyes of Oracle), and is a complex character many readers can relate to in the DC Universe."
Other Formats/Collected In:
Digital Collection
Ad blocker interference detected!
Wikia is a free-to-use site that makes money from advertising. We have a modified experience for viewers using ad blockers

Wikia is not accessible if you've made further modifications. Remove the custom ad blocker rule(s) and the page will load as expected.