"The Swarm"
Batman Eternal #41
January 14, 2015
Written by
Kyle Higgins, consulting writers Ray Fawkes, Tim Seeley, story Scott Snyder, James Tynion IV
Cover by
Ivan Reis, Joe Prado, Rod Reis
Interior Art by
Joe Quinones
Colored by
Kelsey Shannon
Lettering by
Steve Wands
Edited by
Dave Wielgosz, Chris Conroy, Mark Doyle
Previous Issue
Batman Eternal #40
Next Issue
Batman Eternal #42
Nanites are tearing The Narrows apart! Can Red Robin stop them while the rest of the city burns?
Summary of Stephness: On a rooftop, Steph in Spoiler garb muses about how her life has no creature comforts or basic hygenic measures when she is surprised by an assassin code named "Killshot." Wielding a bola, Killshot says he's been paid by a client who wants to protect her, not kill her, as Steph attacks. He blocks her punch and kick easily, then stuns her with a punch to the head.
Other Formats/Collected In:
Digital Comic Book
Batman Eternal Vol 3 TPB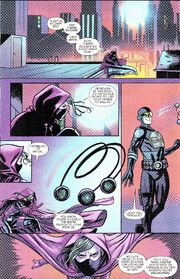 Ad blocker interference detected!
Wikia is a free-to-use site that makes money from advertising. We have a modified experience for viewers using ad blockers

Wikia is not accessible if you've made further modifications. Remove the custom ad blocker rule(s) and the page will load as expected.