"Zero Hour"
Batman and Robin Eternal #23
March 9, 2016
Written by
Genevieve Valentine
Cover by
Carlo Pagulayan
Interior Art by
Christian Duce
Colored by
Gabe Eltaeb
Lettering by
Saida Temofonte
Edited by
Dave Wielgosz, Chris Conroy, Mark Doyle
Previous Issue
Batman and Robin Eternal #4
Next Issue
Batman and Robin Eternal #24
Every child in the world has been brainwashed by Mother to join her army. In order to deprogram all the children in the world, will the Bat-team have to turn to the psychological expertise of…Scarecrow?!
Summary of Stephness: Steph is trusted to guard Scarecrow, and proves yet again (see Batgirl #3) that Dr. Crane is no match for any version of Stephanie Brown. Imprisoned by the Robins, Crane attempts to turn Stephanie against the heroes by playing on her fear. Instead, she gives him a logical and intense verbal beat down, causing Jason to remark approvingly upon his entrance.
Other Formats/Collected In:
Digital Comic Book
Batman and Robin Eternal Vol 2 TPB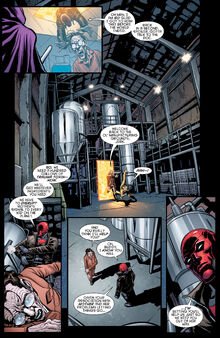 Ad blocker interference detected!
Wikia is a free-to-use site that makes money from advertising. We have a modified experience for viewers using ad blockers

Wikia is not accessible if you've made further modifications. Remove the custom ad blocker rule(s) and the page will load as expected.