A special issue flashing forward to the weekly series BATMAN ETERNAL! Get a peek at what's to come in the weekly series, with glimpses at some key characters and plot-lines that will shape the future of the DC Universe!
Summary of Stephness: She shows up on the last page, tied to a chair in Catwoman's custody. She's wearing a cross between her older Spoiler cloak outfit and her Batgirl costume. Catwoman tells Batman that her name is Stephanie Brown, she's known as the Spoiler, and she's the only one who knows what's going on in Gotham.
Behind the Scenes: This was originally published before Batman Eternal began as a teaser for that series, and takes place at the same time as Batman Eternal #43.
Dustin Nguyen, who penciled this issue, had previously posted a picture entitled "Welcome Back Steph!"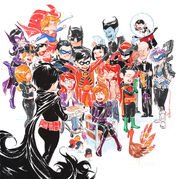 The final page of the issue deliberately uses the same pose for Steph:
Other Formats/Collected In:
Digital Comic Book
Batman Eternal Vol 3 TPB

Variant Covers Edit
Ad blocker interference detected!
Wikia is a free-to-use site that makes money from advertising. We have a modified experience for viewers using ad blockers

Wikia is not accessible if you've made further modifications. Remove the custom ad blocker rule(s) and the page will load as expected.