"School of Night"
Batman, Incorporated: Leviathan Strikes! Chapter 1
December 21, 2011
Written by
Grant Morrison
Cover by
Chris Burnham and Nathan Fairburn
Interior Art by
Cameron Stewart
Colored by
Nathan Fairbairn
Lettering by
Sal Cipriano
Edited by
Mike Marts
Previous Issue
Batgirl #22
Next Issue
Batgirl #23
In this giant-sized one-shot spinning out of Batman Incorporated, Batman realizes to his horror that he's been outwitted as the true identity of Leviathan continues to elude him. Is his deadly adversary an old foe with a grudge to settle, a new face of evil or something completely different?
Summary of Stephness: Following her adventures with Squire in London (Batgirl #22) and furthering the setup in Batman: The Return and Batman Incorporated #6, Steph is undercover at Evil Schoolgirl Assassin Academy, while Bruce janitors around. Steph is the viewpoint character, and gets some pretty cool infiltration and fight scenes. Cameron Stewart (who would go on to be one of the writers/breakdown artists for the new Barbara Gordon Batgirl team in 2014) had art duties for the Steph chapter, and captures Steph's attitude well, though not necessarily ironically. Despite it being a BatMAN Inc. title, Morrison gives Steph a lot of great moments, including Steph's final line that she came to school not to learn, but to teach, just before she takes down a courtyard of assassins, then assists Batman with a crossbow wielding teacher.
Behind the Scenes: While this is sorta-kinda in New 52 continuity, it's listed here because Morrison wrote it mostly before the reboot was finalized, and apparently didn't want to have to figure out what to do with Stephanie post-change. Only the first half of the comic features Steph, and the rest doesn't matter that much unless you closely followed the Incorporated/Morrison Batman run. It fits neatly after Batgirl #22 in pre-n52 continuity, as it was apparently intended to be #9 for Morrison's series: http://comicsalliance.com/batgirl-stephanie-brown-batman-incorporated-leviathan-strikes/. Additionally, there was a last minute change from trying to fit the issue into the n52, to simply publishing it as the last part of the post-Crisis continuity, after the artist had already started to draw the issue with Steph as Spoiler, necessitating redrawing. Chris Burham also drew an unused cover for Batman, Inc. #9 featuring Batgirl.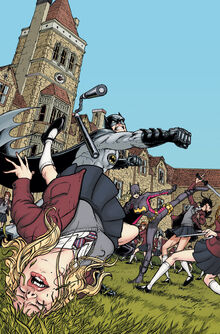 One of the writers and designers on the n52 Batgirl series relaunch of 2014, Cameron Stewart, was the artist for the Stephanie story. While working on the book, he interacted for the first time with Steph's fan base: http://www.comicsbeat.com/stephanie-brown-is-back-and-cameron-stewart-is-learning-all-about-her/. He'd actually already touched Steph's story when he provided the cover for Batman: The 12 Cent Adventure, but apparently wasn't involved in that event enough to know about the character.
Sadly, though Stewart was apparently impressed at fan love for Steph, he didn't take his experience to heart, as since he was asked to take over the new Batgirl with Barbara Gordon in the cowl, he never mentioned Steph in interviews without taking the chance to antagonize and denigrate both Steph and her fans.
In Batman and Robin Eternal #17, Harper Row infiltrates St. Hadrian's, the exact same school that Steph infiltrates here, and mentions that she shouldn't tell Steph she's doing this.
Other Formats/Collected In:
Digital Comic Book
Batman Incorporated: The Deluxe Edition TPB
Absolute Batman Incorporated HC

Ad blocker interference detected!
Wikia is a free-to-use site that makes money from advertising. We have a modified experience for viewers using ad blockers

Wikia is not accessible if you've made further modifications. Remove the custom ad blocker rule(s) and the page will load as expected.