"Open Mind"
Batgirl #50
April 6, 2016
Written by
Brenden Fletcher, Cameron Stewart
Cover by
Babs Tarr
Interior Art by
Babs Tarr, Eleonora Carlini, Roger Robinson, John Timms, James Harvey
Colored by
Serge LaPoine, Lee Loughridge, James Harvey
Lettering by
Steve Wands
Edited by
Dave Wielgosz, Chris Conroy, Mark Doyle
Previous Issue
Batgirl #49
Next Issue
Batgirl #51
It's the explosive conclusion of the epic that changed Barbara Gordon forever! The enemy lurking at the edges of Batgirl's life has been revealed, as have the gang of heroes assembled to help her! From this point on, Batgirl doesn't walk alone! It's an extra-sized celebration of the greatest hero Burnside has ever known, from Cameron Stewart, Brenden Fletcher and Babs Tarr!
Summary of Stephness: After a briefing by Babs on Fugue's plan to blame a terrorist attack on Barbara Gordon, Steph goes after the Jawbreaker motorcycle duo of villains. After she takes out one of their bikes, Harper provides backup by removing their weapons, and Steph takes them down hard with her staff.
The girls then head to the bridge, trying to help Fugue's mind-controlled minions to leave his attack zone.
Lastly, in when Fugue tries to destroy Babs's mind, Steph appears as part of Team Batgirl in Babs's mental image of herself! (Sort of like the scene in Supergirl #63, where Steph appears in a vision of the most important people in Damian's life.)
Behind the Scenes: On Twitter, Fletcher revealed that not only will Spoiler return in this 50th anniversary of Batgirl special issue, but also Black Canary, Bluebird, and an additional unnamed character!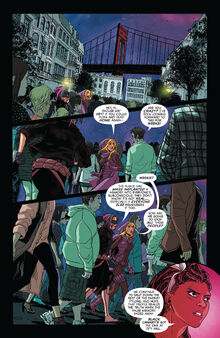 Eleonora Carlini, previously an artist who'd drawn Steph in Batgirl #47, commented that she drew Steph on the bridge. She also posted the line art for the pages here.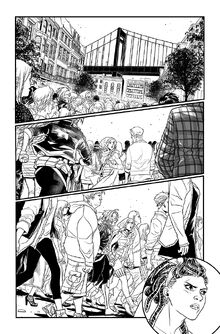 John Timms provided an awesome "vs." poster page for Steph!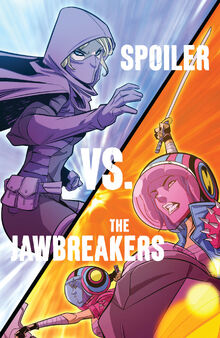 Babs Tarr also posted on twitter the cover art process: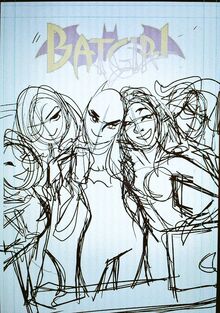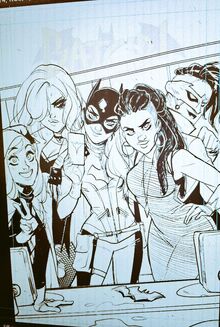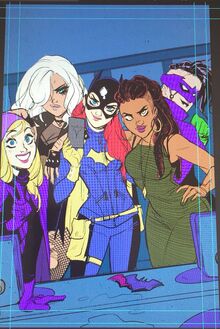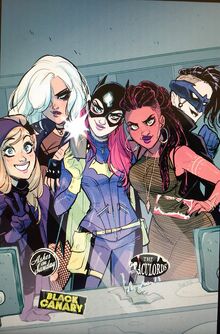 Other Formats/Collected In:
Digital Comic Book
Batgirl: Mindfields (Vol. 3) TPB

Variant Covers Edit
Ad blocker interference detected!
Wikia is a free-to-use site that makes money from advertising. We have a modified experience for viewers using ad blockers

Wikia is not accessible if you've made further modifications. Remove the custom ad blocker rule(s) and the page will load as expected.